Share
Tweet
Hey yo! – it's Tuesday (after the long weekend) and today's tutorials are quick and dirty ways of drawing your own weapons for your comic book characters. Depending on the genre of your comic, weapons are a necessary evil. If you have a fantasy epic, a space story or a crime thriller, weapons generally play an integral role in the action in your comic. Here's a few samples of tutorials that will help you draw various types of different weaponry.
Medieval Weaponry (Fantasy)
Here are a collection of YouTube videos showing simple methods of drawing swords, axes and longbows for use in a fantasy or medieval based comic.




The Sword
This brief tutorial by Yusuke shows you how to draw an ornate sword for battle in only 3 steps. (not including practice, of course!)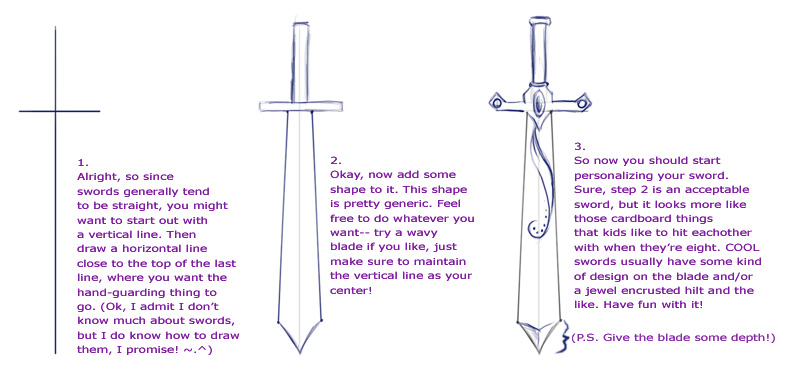 The Musket
At the turn of the century, Muskets were used by soldiers as a method of mowing down soldiers in firing lines of combat. Here's an easy step by step tutorial from DragoArt showing you how to draw one of the simplest and earliest rifles. (click the image to visit DragoArt)
Handguns
Grace Allison provides an easy to understand tutorial on drawing handguns. Click the image to check out this quick tutorial over on her DeviantArt page.
Uzi Sub-Machine Gun
Another quick tutorial over at DragoArt shows you the proper method to drawing a side view of an UZI sub-machine gun. Click the image to see the full tutorial.
Conclusion
There's millions of other variations of weaponry out there – these tutorials are simply a base for the most common ones out there. If you're looking for a specific knife, sword, gun or larger weapon, I'd suggest taking a few minutes and searching Google Images for various types of weapons from brass knuckles to bazookas. Chances are, you'll come across websites that have detailed photos you can use as reference for your drawings.
See you next week.
Related Posts