If you've been abreast of things in the comic book-turned movie world, you've already come across a number of Frank Miller's works in recent years. He is best known for his dark, film noir-style graphic novels such as 300, Sin City, Ronin and more familiar names with Daredevil: Born Again (during his run at Marvel) and Batman : The Dark Knight Returns (with DC).
His gritty, loose style gives his characters more of a darker, mysterious edge. Miller is well known for his use of contrast and deep shadows to create some dramatic looking imagery:
Miller refined his style with the issues he developed for Daredevil in the 80s during his time at Marvel, and collaborated with Chris Claremont on a Wolverine miniseries. Miller was able to expand Wolverine's character through the new storyline, and introduced more of an Eastern flair with his artwork featuring some manga-like undertones.
From there, he moved on to produce his own 'creator-owned' title for DC – 'Ronin.' The story is about a reincarnated Ronin samurai who ends up in an alternate version of a future New York.
In the mid 80s, Frank Miller produced one of his greatest pieces of work, which still remains as one of DC's best selling series of all time: Batman: The Dark Knight Returns. Set in the future after Batman retires from crimefighting following the death of the 2nd Robin, the story develops with Batman returning to action as a meaner, grumpier version of the vigilante in future Gotham which is overrun by punks. The political and moral aspects of the stories bring Batman to face one of DC's greatest champions in a duel to death for the fate of society.
After a contract dispute with DC over ratings and censorship, Miller produced the first of a series of stories for independent publisher Dark Horse. This series, entitled Sin City proved to be the pinnacle of Miller's work and his calling card for future work to come. Set in seedy Basin City, the stories revolve around a number of darker anti-heroes forced into noble roles in order to complete their tasks. All of the stories intertwine in some manner, creating a rich, yet pulpy film-noir world of booze, broads, and bullets.
Some of the books were transformed into live-action sequences for the Sin City movie. With Miller on the production team, the director, Robert Rodriguez was able to follow the pacing and use the books as the official shot storyboard. It was one of the few graphic novels that stayed true to the story and appearance, and followed the books frame by frame. Here are some examples:
Miller went on to write for a series of different stories – Hard Boiled with Geof Darrow, a new Daredevil series with John Romita, the scripts for RoboCop 2 and 3, and numerous others. In 1998, he hammered out his version of the ill-fated battle of Thermopylae, simply entitled 300. Using his trademark shadowy style, Miller illustrates the battle between the vast Persian army and their defeat at the hands of 300 Spartans told from the perspective of King Leonidas of Sparta.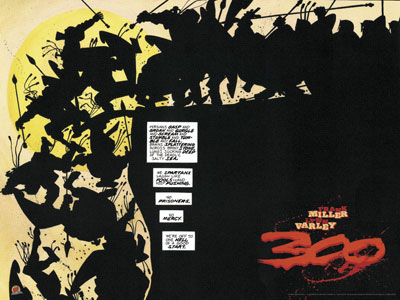 300 was also brought to life on the big screen and followed many of the same techniques used in Sin City, under the direction of Zack Snyder. Here are some of the stills from the movie, and you can see how they mimic the style of the graphic novel:
Setting aside his differences with DC, Miller returned to produce a sequel to The Dark Knight Returns entitled the Dark Knight strikes again. The story continues on where DK left off, but this time the story revolves around the criminal activity of Lex Luthor and a band of superheroes forced to work for him.
Miller also produced a pet project of his own, another silver screen adaptation of one of his favorite comic book icons, penned by the immortal Will Eisner – The Spirit. Panned by critics and fans for its lack of substance, you can still feel the noir edginess Eisner developed in his books from the 40s-50s. Miller extended that edgy, pulpy feel to the movie – unfortunately, the dialogue was out of date and out of context for today's viewers, and it remains only as a piece for die-hard fans and eye-candy for the rest of us.
Currently, Frank Miller has been busy working on the sequel to the Sin City movie, and rumors were reported to have him create a series of new stories for the film which would also be available in print. Miller has also completed work on the first draft of a followup graphic novel for 300 which has yet to be titled. His work has influenced many, and he has been awarded for his revolutionary edginess in writing for classic comic book characters as well as for his artistic works done on his own terms. Frank Miller is an icon and a pioneer in the comics world, due to his unwavering attitude towards the display of the darker, violent side of reality.
Tweet