You know him from the fantastic illustrations he's done for Rockstar Games for games like Grand Theft Auto, The Warriors and Bully. His name is Stephen Bliss, and his signature style is like a gritty, urban still life that captures the mood of the darker side of the city and its people.
If you're not familiar with his work, here's a few samples to refresh your memory.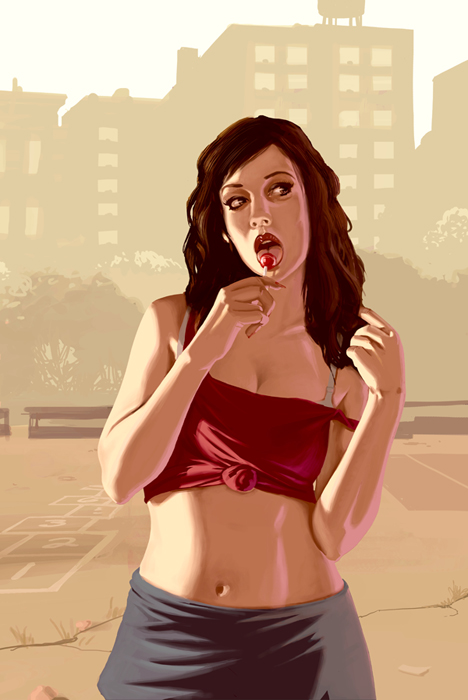 Look familiar? A lot of his work has been plastered all over New York City buildings, as full page spreads in magazines, and as stills in TV commercials. His style is distinct, edgy and top quality.
Before Stephen began his sweet gig with Rockstar Games in New York, he was an in-house designer and artist for Hysteric Glamour in Tokyo during the mid-80s. In 1989, he returned to London to work as a freelance illustrator. His work has been featured in such high-profile publications as GQ, Time, Arena, and Vogue. As the years passed, his client list expanded to include Burton Snowboards, BMG Music, The Cartoon Network, Sony, Nintendo, MTV, Pepsi and trip-hop mainstays Massive Attack.
In 1998 with the help of his brother, he formed Steroid – a T-Shirt company which sold merchandise throughout the UK and Japan. In 2001, he landed in North America and became Rockstar Games senior artist, and has been cranking out work for their game titles. His moody, urban illustrations helped define and brand each game in the Grand Theft Auto series, but had enough distinctive changes in the artwork to make each individual game unique.
Stephen Bliss' art has been a great influence on my own style of work, and each time a new Rockstar product is released with his artistic vision, I am amazed and inspired at the skill and quality he puts into each piece. Sometimes its merely the use of colour, or definition in a silhouette – either way, he puts interesting spins on his subject matter, yet still manages to retain a signature style that is distinct and instantly recognizeable.
You can check out his site and portfolio online – www.stephenbliss.com
Tweet